United Way Distributes Free SingleCare Prescription Discount Cards

FamilyWize, which has been helping United Way communities save on their prescription medications since 2008, is officially combining the brand with SingleCare, a national leader in prescription savings cards. FamilyWize is now known as SingleCare. 
United Ways and FamilyWize Community Service Partnership collaborated to bring greater stability to communities nationwide. We know from experience that families living on the edge never struggle with just one issue; it's the combination of several problems piling up that prevents families from finding stability and truly thriving. 
At United Way Monterey County, we partner with SingleCare (FamilyWize) to increase the Health and Financial Stability of families in our communities. Through their prescription savings card, SingleCare works to make prescription medications more affordable for all families, so that no one ever has to make the hard choice between the meds they need, and other basics like food or rent. 
In 2020, United Way Monterey County, through this partnership, has reached an important milestone: 60,100 Monterey County residents have benefitted from savings of over $6 Million in prescription medication since the partnership started. In 2020 alone, SingleCare and United Way Monterey County partnership saved $321,202 in prescription medication, helping 5,148 people in Monterey County. 
SingleCare Cards are available through the following locations:  Monterey County Free Libraries, Alisal Healthy Start Community Center, Child Health Disability Program, Alisal Union School District-Migrant Department, Housing Authority, Cabrillo Family Resource Center, Monterey County Resource and Referral, Community Oral Health Services, and WIC offices.
SingleCare cards can reduce prescription drug costs by an average of 35%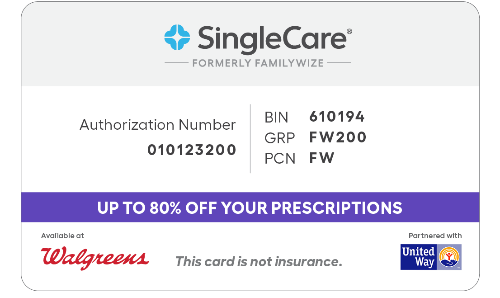 Cards are available to:
Anyone who does not currently have health insurance
Anyone who does not have prescription coverage
Anyone who is purchasing a medication not covered by their insurance