Founded in 1984, the United Way Tocqueville Society is an opportunity for passionate individuals to become more deeply involved in United Way's mission.
United Way Tocqueville Society aims to:
Change lives through philanthropic leadership focused on the building blocks for a better life: a quality education that leads to a stable job; income that can support a family through retirement, and good health.
Communicate the vital role of personal philanthropic action in creating long-lasting changes.
Expand high-level personal giving and United Way Major and Planned Giving programs.
Strengthen local United Way leadership by building a network of like-minded leaders across the globe.
Meet Tocqueville Society Chairs Beth and Joe Heston: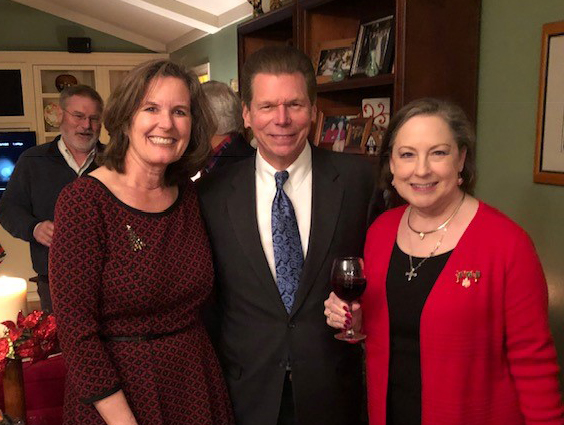 Beth Heston
Born and educated in Baltimore, MD, Beth Heston has been a resident of our beautiful Monterey Peninsula for a third of her life and half of her married life.
Beth & her husband, Joe, have a 35-year-old son; he & his wife live in Holland, Michigan. Beth and Joe have been active leaders of St. Dunstan's Episcopal Church in mid-Carmel Valley since shortly after their arrival here in 1999.
Beth's work-life in accounting culminated in her position as Staff Accountant at a CPA firm in Pittsburgh, PA. She now offers her skills as Treasurer to various groups at her church and she served a term as Treasurer of The Salvation Army Advisory Board of The Monterey Peninsula during her 20 years of service there; she maintains her officer status as current Secretary of the Advisory Board. In addition, Beth and Joe offer philanthropic support to a wide range of other non-profit groups across the Central Coast.
Beth's hobbies are anything crafty - she sews, knits, crochets, makes jewelry, does calligraphy and papercrafts, and loves glitter!
Joe Heston
Joseph W. Heston served as President and General Manager of KSBW-TV for 22 years, retiring in September of 2020. He worked in television for 45 years; and for the last 36 of those years, for the Hearst Corporation, owner of our local NBC affiliate, KSBW. He came here to lead KSBW in 1999. Prior to that, he held various management and production assignments for Hearst in Boston, Pittsburgh, and Baltimore. He may be familiar to you due to his 1,086 weekly on-camera appearances, presenting the position of the KSBW Editorial Board (they kept count!).  
 
He has served on various local boards, initiated market-leading television public service projects (that continue to carry on today), is the Verger and a lay minister at his church and is active with his wife in local philanthropy through their family foundation.  
 
His involvement with the United Way dates back to 1977 in Baltimore, where he worked as a producer on a United Way half-hour special, which simultaneously aired on all the city's major TV stations.  He has worked with United Ways in Boston, Pittsburgh, and Baltimore since then. He was the executive producer in Boston for the first UW partnership for "Success by 6", an award-winning early childhood development initiative. That project was later deployed to over 80 United Way cities, including the Central Coast in 2000. He served on the board for the Greater Pittsburgh United Way and served on the board of United Way Monterey County for six years. He and his wife have been Alexis de Tocqueville Society members for over 10 years.
 
Heston, a summa cum laude graduate of Ohio University, is married to the former Elizabeth Ann Hansen. Both are originally from Baltimore, Maryland. They reside just outside the City of Monterey. They have one married adult son, who lives with their daughter-in-law, in Holland, Michigan.
Membership
Tocqueville membership levels are based on each member's chosen level of giving.
Membership Levels
Alexis de Tocqueville admired three elements in North American society: liberty, equality and the spirit of neighbor helping neighbor. Tocqueville believed that by achieving these elements of democracy, all people would choose to pursue freedom, knowledge and prosperity, or indépendance, connaissance, and prospérité.
Special orders of recognition have been created based on these concepts, and distinguished by each member's chosen level of giving:
Membres de la Société— $10,000 - $24,999
Ordre de Liberté — $25,000 - $49,999
Ordre d'Egalité— $50,000 - $74,999
Ordre de Fraternité— $75,000 - $99,999
La Société Nationale— $100,000 - $249,999
Ordre d'Indépendance— $250,000 - $499,999
Ordre de Connaissance— $500,000 - $749,999
Ordre de Prospérité— $750,000 - $999,999
La Table Ronde de Millions de Dollars— $1 million plus
Membership Benefits
Specific local Tocqueville Society benefits differ by location; however, all Tocqueville Society members benefit from:
Joining a national network of philanthropic leaders who are engaged locally to create long-lasting, positive changes
Partnering with a quality organization and dedicated staff; ensuring that gifts, voice, and time are efficiently invested in local communities to maximize impact.
The unique position of United Way as one of the world's premier philanthropic organizations which can be used to convene community business and civic leaders focused on the building blocks of a good life: a quality education that leads to a stable job; income that can support a family through retirement; and good health.
Local Tocqueville Society leaders along with National Society and Million Dollar Roundtable members are invited to attend national and worldwide gatherings of Tocqueville and Million Dollar Roundtable Members.
To learn more about the Alexis de Tocqueville Society contact Lynda Patrick, Vice President, Resource Development, by email or at (831) 318-1973.