Circle of Impact
United Way fights for the financial stability of families in Monterey County
We know that regardless of how hard they work, for many families in Monterey County, the cost of housing and child care makes it difficult to get ahead. For six out of ten families with children, these two expenses account for 50% or more – often significantly more – of their monthly budget. That's not good for any of us. That's why United Way is taking the lead to tackle these two tough issues. We're already hard at work helping families gain access to quality, affordable child care.
The lack of affordable, quality housing for working families is affecting the health, safety, and educational achievement of our residents. It also limits the productivity of our local businesses. That's why United Way is investing through the Monterey Bay Housing Trust to create additional housing.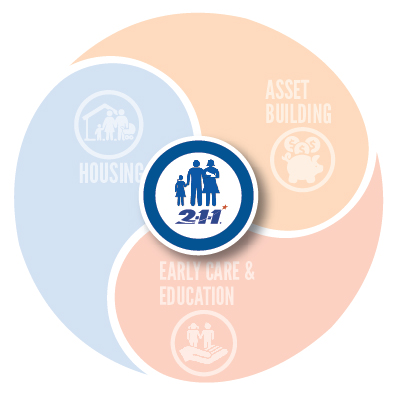 211 is a FREE, easy-to-use source of information and referrals that connects you to the services you need. Accessible 24/7.
Impact Monterey County
Impact Monterey County (IMC) is a collaborative effort of nonprofits, businesses, public agencies and the community working together to identify the aspirations of Monterey County residents related to education, economic self-sufficiency, and health.
Learn More
Our Impact Stories
Our Impact Through Summer Bridge
Find out why Patricia believes United Way is helpful.
Find out why Jacqueline finds United Way beneficial in her progress.
Our Impact Through Prosperity Planners
Find out why Nicole views United Way's prosperity platform as a vital change in her life.